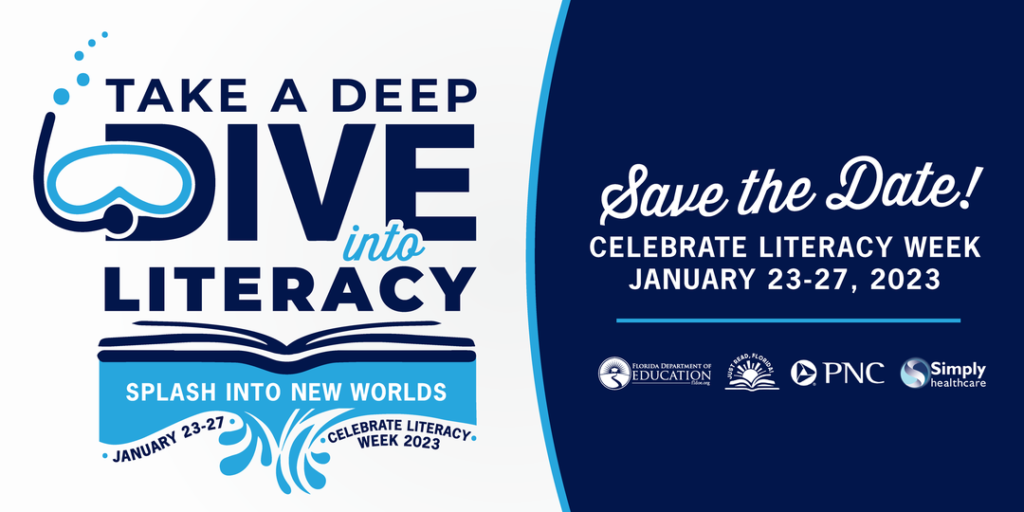 The Florida Department of Education's Division of Early Learning is once again collaborating with FDOE's Just Read, Florida! office for the 15th annual statewide Celebrate Literacy Week, Florida! 2023 events. Celebrate Literacy Week, Florida! 2023 is scheduled for the week of Jan. 23-27, 2023, so mark your calendars now for this important week of events. This year, the Celebrate Literacy Week, Florida! theme is Take a Deep Dive Into Literacy – Splash Into New Worlds!
DEL will support the Celebrate Literacy Week theme from an early learning perspective with a focus on new experiences. Early child care providers and preschools will incorporate early literacy skills into age appropriate self-awareness topics related to families and their communities.
Please mark your calendars for the simultaneous reading activity on Wednesday, Jan. 25, at 9 a.m. (EST). Providers will spread the love of literacy in their homes, centers, and schools by reading Ten Little Fish by Audrey and Bruce Wood to infants and toddlers (birth to 3-year-olds) and to preschoolers (3- to 5-year-olds).
For more information and activities, click here.